Learning to appreciate wine food wine pairing is key to great dining. Learning how wine interacts with different foods will help you create a unique and enjoyable dining experience for you and your guests.
Our hotels Head Sommelier, Andrzej, is passionate about helping people find great enjoyment and appreciation of food wine pairings. Andrzej says every wine has a personality, a character who plays a part during the dining experience. He explains "the more we know how to pair wine with food that better able we are to enjoy both the food and wine."
He goes on to say that "acidity of the wine is the dominant player of any food and wine pairing due to its pronounced and complex ways that can heighten the perception of flavours. In wine tasting, acidity is perceived by a mouth-watering response by the salivary glands. This mouth-watering can also serve to stimulate the appetite."
The Best Wines in the World
Andrzej has travelled the world to bring his extensive knowledge of the best wines to our guests. He performs wine tastings for guests in each of our hotels on different days during the week.
During the wine tasting, guests can taste different wines and learn how to identify certain aromas from the wines in a relaxed intimate setting. There is so much to learn about wines.
Wine Fact of the Month
And a little fact you might not know is how alcohol is the primary factor in dictating a wine's weight and body. And how typically, the lighter the alcohol, the more weight the wine has. An increase in alcohol content will increase the perception of density and texture.
Domaine Charly Nicolle Chablis Ancestrum, Chablis, France
Chablis wines are made in a style rather different from those produced elsewhere in Burgundy. They are drier and fresher, rather than weightier and richly flavoured. Most basic Chablis is fermented and aged in stainless steel, with use of oak barrels more common in higher-level wines, though used larger barrels are more likely to be employed than new barriques, and wines will spend a shorter time in them than in the Côte d'Or.
Domaine Charly Nicolle's Chablis is a welcome blond and bountiful juice.  It is described as "Gold borne by the soil, these pure flavours, one by one, are set free, filling the mouth with acacia flowers, fresh citrus and that straightforwardness, that tight-rope balance I had hoped for, desired." It is said long glances and great conversation follows the uncorking of a bottle of Chablis.
A Little Background on the Winemaker
"I first worked with my father and learned the ropes. I soaked up the knowledge and now make and sign my own wine now. I'm content in my vineyard. I take care of my vines with both deep-rooted and intimate happiness. It's like an infant I care for every day, bringing the fruit makes my Chablis to maturity. All year round, I work the land: ploughing, tilling and hoeing. Pruning with care, I count the seven nodes along the cane and two more on the renewal spur. The vines bud. In June, the hills fill with their scent and I count the 100 days remaining until harvest. Summer goes by, the last Swallows take flight and I harvest the golden seeds."
A Perfect Dish to Compliment Your Wine
Andrzej chose our Seared Carlingford scallops with buttered puree, peas & pancetta as a starter dish to compliment the Chablis wine. This wine produces light, dry, white wines famed for their flinty minerality and crisp acidity.
The rich texture and flavour of the scallops or other seafood beautifully reacted with the chalky minerality and refreshing acidity of the wine to refresh the palate.
Great Wine & Food Pairing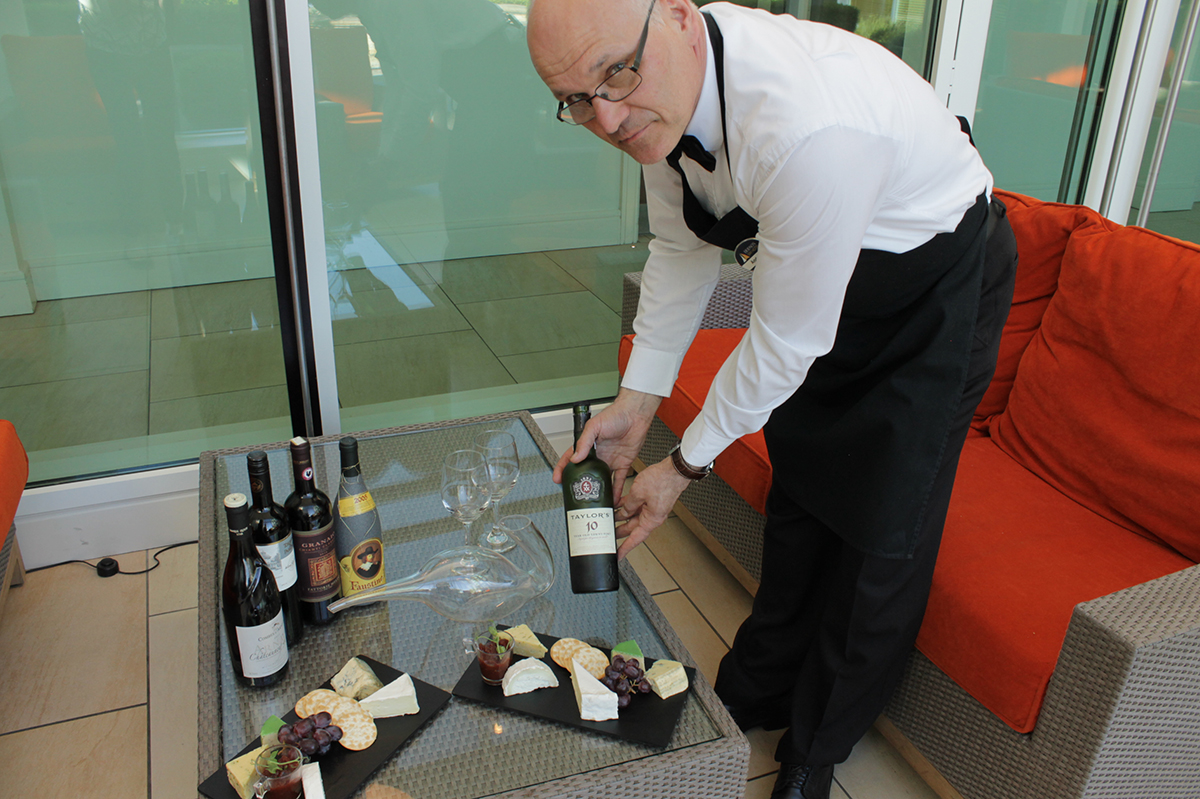 Food and wine pairings are like great conversations that flow naturally and are always enjoyable. In our hotels, we are passionate about providing uniquely great food and drink. We love our guests to experience our complimentary wine and food pairings. And so, if you a guest in any one of our hotels be sure to try the wine tasting and meet with our Head Sommelier Andrzej. And keep an eye out for Andrzej's November wine recommendation.
Bon appetite!